It is the time, energy and expertise of local volunteers that underpins everything we do at Orchard Barn - from conservation projects in our traditional orchard, work on and around the barn, to helping to renovate local woodland.

We now offer working parties on 3 week-days - each with a different focus, plus random Saturdays - TBC
**** VOLUNTEER RECRUITMENT Dec 19 ****

Tuesdays - developing the vegetable growing areas
Wednesdays - 3 days a month practical site development as well as helping our local woodsman with the renovation of ancient woodland 1 day/month short video

Thursdays - greenwood working

A day in the woods - read about Karyll Browne's experience
Volunteers explain why they like working at Orchard Barn
The majority of projects we undertake utilise hand tools. There are many advantages to these traditional, low-tech ways of working:-

Increased fitness
Encourages teamwork
Skills development
Quieter - we can talk, or listen to the sounds of nature
Kinder on the wildlife
No polluting fumes

Slower, mindful - helps counteract stress

Greater satisfaction
Keeps old skills alive and practiced Volunteer Induction pack Expenses policy Dec 19
Volunteer policy Nov 19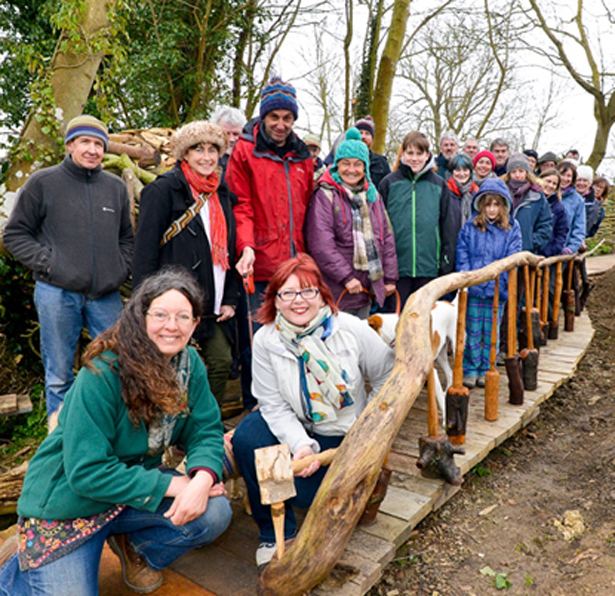 Whilst OBee derives some of its income by offering paid-for training courses, it relies heavily on grant-funding and volunteers to maintain and develop its premises and promote its ethos.
To secure grant funding – and indeed to comply with company legislation - we have to demonstrate not only our technical credentials, but also our commitment to the range of people-related policies expected of a modern organisation. Awareness of, and adherence to, such policies is essential, so we require all our on-site volunteers to undertake appropriate training and regular refreshers.
Volunteers are the lifeblood of our community and we aim to attract like-minded individuals to join us and share our work. It is important that we welcome new volunteers and introduce them to our style of working through hands-on experience. We feel this is best achieved through undertaking enjoyable tasks alongside established volunteers. Hence we ask all existing volunteers to support us by joining in a light-hearted half-day session following the induction training. We view a commitment to take part in such events as an essential part of being a member of the OBee community.